Advertising

APPrO offers unique and high-value promotional opportunities for advertisers seeking to expand their visibility in the Canadian power market. With a membership that includes most of the top level senior managers, consultants and other industry experts, APPrO provides targeted access to vital electricity industry connections through an array of information sharing options, resources and events.  APPrO resources are the go-to location for APPrO's members and the general industry to keep up to date and informed on industry news and activities.
Advertising Opportunities include:
IPPSO FACTO Magazine (quarterly, digital)
APPrO OnLine (four websites)
PowerBrief e-newsletter (weekly)
Canadian Power Directory Online (free listing)
IPPSO FACTO Magazine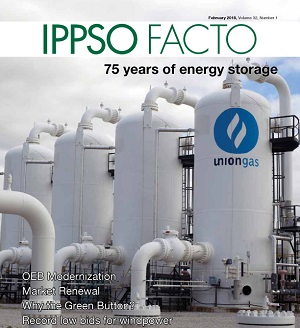 IPPSO FACTO Magazine is publicly available online. IPPSO FACTO, long considered the "journal of record" of the Canadian power industry is widely read and well respected, providing current industry intel and insights from and for key industry players.
The October issue of IPPSO FACTO Magazine will be digitally distributed to prospective attendees of the Annual Canadian Power Conference & Networking Event.  Advertising in IPPSO FACTO Magazine guarantees your messaging hits your target audience including major companies, all levels of government, regulatory bodies, consultants, and service and equipment suppliers across the Canadian power supplier spectrum.
APPrO OnLine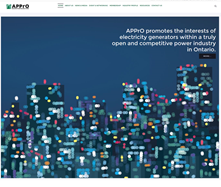 APPrO publishes four discrete websites: corporate, conference, magazine, and directory. With a wide variety of options for banner advertising providing the benefit of affinity with the industry's leading association, advertising on the APPrO websites puts your company in front of a wide audience of important industry players.
PowerBrief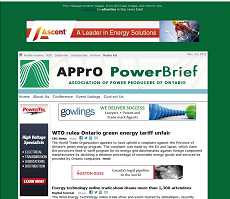 Working closely with our publishing partner, Multiview, APPrO brings you the weekly e-newsletter APPrO PowerBrief - packed with a wide variety of weekly news and insights from the power sector all in one handy email.


Canadian Power Directory

APPrO also provides access to the Canadian Power Directory online - a unique opportunity to reach power generation professionals in an interactive online platform. Not only can you create your own unique listing, but you can actually edit it as you wish, when you wish. Get listed now and receive a free logo posting to accompany your listing (offer good for six months of logo posting).


APPrO Conference & Networking Event Sponsorship Opportunities
APPrO offers a variety of packages to support all marketing strategies and budget.
Whether it's thought leadership, networking or generating brand awareness, APPrO has a sponsorship package in line with your marketing
goals.
Articulate, discuss, mingle and share your ideas on ensuring an economically and environmentally sustainable electricity sector in Ontario. Be at the forefront of industry leadership as an APPrO sponsor!
These are just some of the benefits of sponsorship:

• Align your brand with the country's most prestigious gathering of power professionals across the full spectrum of power technologies
• Support your association with a powerful industry thought leader
• Provide meaningful input into the conference program as a member of the APPrO Conference Committee
• Raise awareness as a sponsor in all collateral leading up to the conference
• Access to lead generation tools, games and attendee analysis
• Access to community engagement tools including video and chat, uploading content
• Opportunity to develop industry connections and business opportunities
• Access to power generation industry leaders via enhanced virtual networking
• Complimentary registrations to the conference for your company
• Clear visibility on the virtual event platform and APPrO website pre, post and onsite
• Advertising in the October special edition of the IPPSO FACTO Magazine online
• Virtual exhibit booth (comes with a full range of networking features)
• Access to a range of virtual networking features
• Brand profile on the virtual event platforms (web and mobile)
• Brand profile on the APPrO 2020 conference website sponsor page
• Banner advertising on the APPrO websites

... and more. (check the prospectus for full details) or contact This email address is being protected from spambots. You need JavaScript enabled to view it. to learn more about virtual sponsorship opportunities at APPrO 2020.
Contact This email address is being protected from spambots. You need JavaScript enabled to view it. for more information on packages and pricing or to discuss your customized, profile building strategy with APPrO, please contact Carole Kielly, APPrO's Marketing Manager, This email address is being protected from spambots. You need JavaScript enabled to view it.                               

 
Quick Links
Go directly to the online magazine now.
To advertise on the APPrO websites or for advertising in the special conference issue of IPPSO FACTO, contact This email address is being protected from spambots. You need JavaScript enabled to view it..
Advertise in APPrO PowerBrief weekly e-newsletter
This email address is being protected from spambots. You need JavaScript enabled to view it.for your free listing in the APPrO Canadian Power Directory! Special complimentary six month logo posting now available for a limited time!

Other resources
* Search the APPrO Archives / Knowledgebase
* APPrO's main website - home page