Probyn Prize - background information
In Honour of Stephen Probyn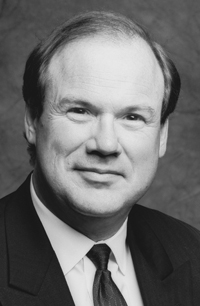 Stephen Probyn
1951 - 2008

Stephen Probyn was an international leader in energy development, public policy and finance, and one of the driving forces behind APPrO for many years. This web page is dedicated to his memory and is intended to serve as a means to collect and develop suggestions for a lasting tribute in his honour.
The content on this page is expected to change and grow as contributions are received from his many friends and colleagues.
Everyone who knew Steve is invited to contribute writings, photos, or other material for use on this website, or to further commemorate the work of this great Canadian.
Please contact APPrO using the links below, for further information or to contribute materials or suggestions.
Items of interest available on this website:
"A visionary and a builder", tribute to Stephen Probyn published in IPPSO FACTO, June 2008 (Text version)
"The remarkable success of the Probyn Group," Article from IPPSO FACTO, April 2007.
Toast to Steve Probyn by Les Horswill, April 7 2008, Reception at the RCYC in Toronto.
Tribute to Steve Probyn by Mike Crawley, April 7 2008, Reception at the RCYC.
Letter from Prime Minister Stephen Harper, May 28 2008.
Information on "The Probyn Prize"
See also: Wikipedia entry on Stephen Probyn
Click here for the PDF version of this page.
For more information, please contact APPrO, the Association of Power Producers of Ontario, at:
Tel. 416-322-6549
email: This email address is being protected from spambots. You need JavaScript enabled to view it.
www.appro.org