Leading light in Canadian energy law receives APPrO's Hedley Palmer Award
[ APPrO Home Page | APPrO conference | APPrO magazine | Online Directory | publications | organizations | education | businesses | conferences | definitions | Internet links ]


For immediate release: November 17, 2015:

Leading light in Canadian energy law receives APPrO's Hedley Palmer Award
Toronto, November 17, 2015 -- Linda Bertoldi, one of the most widely respected lawyers in Canada's energy sector, has been named as the winner of the 2015 Hedley Palmer Award. The recipient of numerous professional accolades for her work in energy law, infrastructure law, international law, and corporate commercial law, Ms Bertoldi has also been recognized as one of Canada's Top 100 Most Powerful Women.
The Hedley Palmer award, specifically recognizing Ms Bertoldi's work in the electricity generation sector, was presented by APPrO, the Association of Power Producers of Ontario, at the 27th annual Canadian Power Conference on November 17.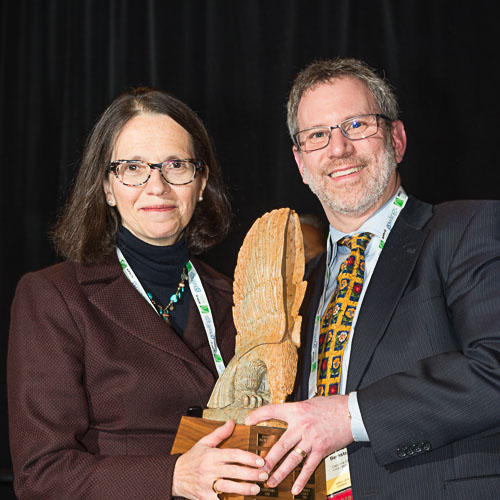 Michael Bernstein, the CEO of Capstone Infrastructure and Chair of APPrO's Board, explained some of the reasons why Linda was selected for this year's Hedley Palmer Award: "Linda helped advise many of today's significant IPP players from their very origins over 20 years ago, from their creation, to their IPO, to their continued development. Linda has guided and advised many of the industry players on their corporate growth as well as helping them finance their projects.'
Ms Bertoldi's work as a lawyer with Borden Ladner Gervais LLP (BLG) is notable because it has gone beyond simply serving clients well. APPrO President Dave Butters said, "Through her work, Linda has caused key energy players from different subsectors, including generators, local distribution companies, consumers, investors and policy makers to appreciate each other's concerns – an essential part of the process for addressing complex issues that inevitably have impacts across the sectors.'
Ms Bertoldi has advised developers, lenders and investors in power projects across Canada including wind, solar, hydro, biomass, natural gas, cogeneration and district energy projects. She also has extensive experience advising municipal electric utilities and their owners on governance, financing, and mergers and acquisitions.
Ms Bertoldi is a senior partner in the Toronto office of BLG and is Chair of the firm's National Electricity Markets Group.
Click here for the full article on APPrO's website.
For more information on the APPrO 2015 conference, visit this link: www.appro2015.com
Association of Power Producers of Ontario (APPrO)
25 Adelaide St. E., Suite 1602, Toronto ON M5C 3A1
tel: (416) 322-6549
fax: (416) 481-5785
website: https://www.appro.org
[ APPrO Home Page | APPrO conference | APPrO magazine | Online Directory | education | conferences | definitions | Internet links ]