Canadian Energy Innovation Award Presented to Morgan Solar
[ APPrO Home Page | APPrO conference | APPrO magazine | Online Directory | publications | organizations | education | businesses | conferences | definitions | Internet links ]

For immediate release: November 16, 2010

Inaugural Canadian Energy Innovation Award Presented to Morgan Solar
Award aims to encourage application of Ontario technology globally

Toronto, November 16, 2010 - Toronto-based solar energy start-up Morgan Solar Inc. was today awarded the inaugural Canadian Energy Innovation Award (CEIA) for its pioneering collaboration with the University of Ottawa SUNLab. The award was presented jointly by Ontario Centres of Excellence (OCE), Borden Ladner Gervais LLP (BLG) and the Association of Power Producers of Ontario (APPrO). A panel of industry experts from the Ontario electricity sector selected Morgan Solar in part because the solar energy technology it is developing holds the promise of being broadly applied in Ontario and around the world.
Morgan Solar was selected for its work on optimizing and accelerating the time to market of the company's Sun Simba, a groundbreaking concentrating solar panel. Based on Morgan Solar's patent-pending Light-guide Solar Optic (LSO) technology, the Sun Simba promises to be the first cost effective solar panel to leverage the significant efficiency improvements of high-efficiency solar cells. The result is a solar panel that achieves one of the industry's highest reported sunlight to electricity conversions in the most compact, low-cost form to date. The University of Ottawa's SUNLab is the only university lab in Canada dedicated to researching high-efficiency solar cell designs for such systems.
"Morgan Solar is another excellent example of the kind of innovation that has its roots in our academic institutions and is nurtured by industry to grow into a success story with tremendous commercial potential,' said Dr. Tom Corr, President and CEO of Ontario Centres of Excellence. "It was that spirit of partnership, in this case with the uOttawa SUNlab, which really won the panel over in selecting Morgan Solar for this award.'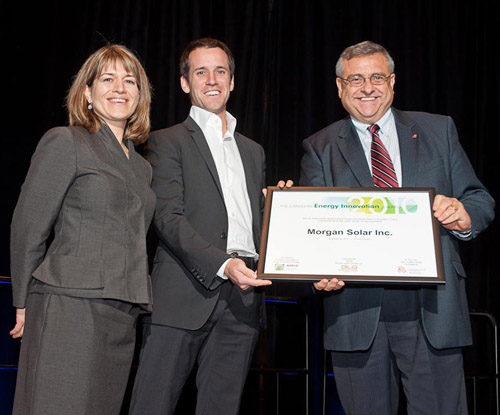 "We set ourselves the ambitious goal of making solar energy competitive with other electrical generation technologies,' said Nicolas Morgan, VP of Business Development at Morgan Solar. "Winning the Canadian Energy Innovation Award with our partner Dr. Karin Hinzer at the uOttawa SUNLab is not only an honour, but also validates our work. It also recognizes the enthusiasm, support, and talent that we've been able to tap into here in Ontario, which has brought us much closer to achieving our goal of bringing to market a game-changing energy technology.'
The challenge for Morgan Solar of taking this new technology from the lab to mass production has been significant, but the company has made enormous progress, in large part due to the guidance and validation provided by the uOttawa SUNLab. The partnership, begun in early 2009, has significantly accelerated the time-to-market of Morgan Solar's Sun Simba technology. It has also generated significant scientific and engineering knowledge, positioning uOttawa and, more broadly, Ontario at the forefront of the exciting research field of high efficiency solar generation.
"We are proud to support Canadian-based innovation in renewables technology." said Linda L. Bertoldi, National Leader of Borden Ladner Gervais Electricity Markets Group. "Companies like Morgan Solar deserve recognition for their efforts to achieve efficiencies in this increasingly important sector of our electricity supply.'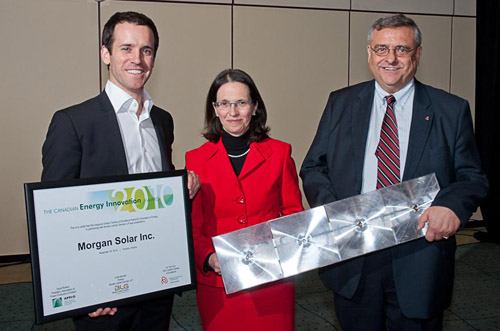 As a result of its simple, compact design, the Sun Simba can be manufactured at a fraction of the costs of existing solar panels, while converting sunlight to electricity at market-leading efficiencies (28-31%). Sun Simba panels are being tested in labs in Toronto, Ottawa, and Denver.
"Our goal with this award was to celebrate extraordinary partnerships that have lead to astonishing innovations,' said Dave Butters, President of APPrO. "In Morgan Solar we found our winner because of their business promise of excellence in solar energy and innovation in the field.'
Please click on this link to see a video about the Canadian Energy Innovation Award and Morgan Solar.
-30-
For further information contact:
Mary Donohue
This email address is being protected from spambots. You need JavaScript enabled to view it.
416 564 2944
or
Nicolas Morgan, VP Business Development, Morgan Solar Inc.
This email address is being protected from spambots. You need JavaScript enabled to view it.
416.203.1655
or

David Butters, President
Association of Power Producers of Ontario (APPrO)
email: This email address is being protected from spambots. You need JavaScript enabled to view it.
Click here for a higher resolution copy of the first photo above.
Click here for a higher resolution copy of the second photo above.
About The Canadian Energy Innovation Award
The Canadian Energy Innovation Award aims to be one of North America's leading green energy awards. The annual award was developed in 2010, as a collaboration between industry and academia. The $5,000 award will create a legacy of exceptional and innovative accomplishments in the sustainable energy sector. Awards winners are themselves a partnership between an institute of higher learner and a private researcher. The founding partners for the award include: Ontario Centres of Excellence (OCE), Borden Ladner Gervais LLP (BLG), and the Association of Power Producers of Ontario (APPrO).
About Morgan Solar Inc.
Morgan Solar Inc. was founded in 2007 to develop next generation solar power technologies that will make solar energy significantly less expensive. They have developed a number of solar energy technologies, of which the first to market will be the Sun Simba concentrating solar PV panel optimized for ground-mounted solar applications. The Sun Simba uses total internal reflection (TIR) to capture, bend, and transport sunlight within an acrylic structure less than 10 mm thick – achieving the solar industry's highest reported optical concentration, in the most compact form to date. The Sun Simba is the first solar panel to leverage the huge potential of high efficiency, multi-junction PV cells by providing the first cost effective concentrating optic.
At this time, Morgan Solar is focused on deploying Sun Simbas at test and demonstration sites in Ontario and in California. The Sun Simba will be available for ground-mounted projects in late 2011.
For more information: www.morgansolar.com
About the Ontario Centres of Excellence (OCE)
Ontario Centres of Excellence (OCE) Inc. drives the commercialization of cutting-edge research across key market sectors to build the economy of tomorrow and secure Ontario's global competitiveness. In doing this, OCE fosters the training and development of the next generation of innovators and entrepreneurs and is a key partner with Ontario's industry, universities, colleges, research hospitals, investors and governments. OCE's Centres work in communications and information technology, earth and environmental technologies, energy, materials and manufacturing and photonics. OCE is funded by the government of Ontario and is a key partner in delivering Ontario's Innovation Agenda. OCE through its Centre for Commercialization of Research (CCR), an initiative supported by the federal government, also acts as a catalyst, which allows innovative businesses to grow and achieve sustainable, commercial success and global competitiveness.
For more information: www.oce-ontario.org
About Borden Ladner Gervais LLP
With more than 750 lawyers, intellectual property agents, and other professionals working in six major Canadian cities, Borden Ladner Gervais LLP (BLG) is the largest Canadian full-service law firm focusing on business law, litigation and the electricity and clean tech sectors. For the third year in a row, BLG has been ranked number one by the 2011 edition of The Best Lawyers in Canada® and chosen as a Go-To Law Firm® of the World's Leading Companies for four consecutive years.
The professionals in BLG's Electricity Markets Group have been recognized in the 2010 edition of The Best Lawyers in Canada©, Chambers Global – The World's Leading Lawyers, The Canadian Legal Lexpert ® Directory, Lexpert ®'s Top 100 Canada US Cross Border Specialists, Euromoney's Expert Guide to the World's Leading Energy and Natural Resources Lawyers. BLG is ranked first in Canada for Energy:Power by Chambers Global.
BLG provides experienced, pragmatic advice and innovative solutions to electricity sector and clean tech clients across Canada.
For more information: www.blg.com
About the Association of Power Producers of Ontario (APPrO)
APPrO is a non-profit organization representing more than 100 companies involved in the generation of electricity in Ontario, including generators and suppliers of services, equipment and consulting services. APPrO members produce power from co-generation, hydro-electric, gas, coal, nuclear, wind energy, waste wood and other sources. APPrO's members currently produce over 98% of the electricity made in Ontario.
For the first 17 years of its operation, the organization was known as IPPSO, the Independent Power Producers' Society of Ontario. In 2002, when Ontario's electricity market was officially opened to competition, the organization began a process in which it broadened its scope to include more generators, and changed its name to APPrO, the Association of Power Producers of Ontario.
For more information: www.appro.org
[ APPrO Home Page | APPrO conference | APPrO magazine | Online Directory | publications | organizations | education | businesses | conferences | definitions | Internet links ]