APPrO launches Power Memory Project to honor achievements
[ APPrO Home Page | APPrO conference | APPrO magazine | Online Directory | publications | organizations | education | businesses | conferences | definitions | Internet links ]


For immediate release: August 7, 2013
APPrO launches Power Memory Project to honor achievements
APPrO has kicked off a wide-ranging educational and media initiative designed to highlight key events in the history of Ontario's power sector and recognize notable achievements of market participants. Known as the "Power Memory Project," it will be a first-of-its-kind collection of historical facts and images disseminated through social media, online and printed publications, and in connection with various events at the upcoming 25th anniversary Canadian Power Conference in Toronto this fall.
"Every so often it's important to pause to take stock of how far you've come, and get some perspective on your plans for the future," explains APPrO Executive Director Jake Brooks. "With the 25th anniversary conference coming up and a number of proposals for wide-ranging change under consideration, there could hardly be a better time to consider our place in history."
APPrO emphasizes that it is looking for participation and input from everyone with experience in or knowledge of the Ontario power sector: "We invite the entire public to share images, tell their stories and send us interesting facts about what's happened in the power sector since our first conference in the 1980s," Brooks said.
The power generation industry is not very well understood by the public, APPrO stresses, despite being a major contributor to the economy and the overall well-being of society – often innovating to reflect the changing expectations of the public and government. For example, Ontario-based generators are responsible for a wide range of investments that have made Ontario's power system, cleaner, safer, and more flexible than ever before. In the 1980's APPrO members took the lead in developing independent power projects, challenging the near-monopoly of Ontario Hydro and making it possible for governments to introduce key elements of competition into the provincial grid. In addition, the supply mix has been reshaped in important ways over the last quarter century - without causing major price increases or compromising reliability. APPrO members were in the forefront of bringing new technologies for power generation to Ontario during this time, including co-generation, biomass, and a range of renewable energy technologies. Wind farms, massive underwater cables, smart grid innovations, localized emergency supply systems, and many more achievements came to Ontario as part of generation projects led by APPrO members.
The "APPrO Power Memory Project: 25 Years in the Power Sector" is intended to be a legacy initiative, APPrO says. To assist its members and others in the sector to contribute, APPrO has installed a fan-page on Facebook which will serve as an online interactive "memory book". There will be a special presentation at the APPrO 2013 Canadian Power Banquet Dinner featuring some of the most outstanding images and stories.
APPrO's Marketing Manager Carole Kielly says, "We invite all industry stakeholders to share memorable photos, stories or quotes from your archives that typify your company and the unique contributions it's made to the history of the power generation sector in the last two and a half decades. Besides posting on Facebook, you can also "Tweet" your photos, comments and links on Twitter @APPrOntario # APPrO2013. Make sure to like, share, follow and mention the initiative whenever and as broadly as possible! All are welcome and encouraged to join the conversation and become an active part of the collective recorded history of the past quarter century of power in Ontario, and the nation."
For further information on submitting your contributions, Google "Power Memory Project" or click on the links below:
The Power Memory Project information page on the APPrO 2013 website
The APPrO Power Memory Project fan page on Facebook
The Suggestion Box – information on how to suggest content and speakers for the APPrO 2013 conference
@APPrOntario #APPrO2013 – APPrO's Twitter handle and hash-tag for ideas, suggestions and Power Memory photos and memorabilia.
For those who aren't active on the internet, Carole will help you contribute your memories and photos to the Power Memory Project. She encourages everyone with interesting memories to share to contact her at 416-322-6549 ext 226 or This email address is being protected from spambots. You need JavaScript enabled to view it. .
APPrO is a non-profit organization representing more than 100 companies involved in the generation of electricity in Ontario, including generators, suppliers of services, equipment and consulting services. APPrO members produce power from nuclear, hydro, fossil, wind, waste wood and other energy sources. APPrO's members currently produce over 95% of the electricity generated in Ontario.
-30-
For further information contact:
Association of Power Producers of Ontario (APPrO)
25 Adelaide St. E., Suite 1602, Toronto ON M5C 3A1
tel: (416) 322-6549 or (647) 444-6549
fax: (416) 481-5785
e-mail: This email address is being protected from spambots. You need JavaScript enabled to view it.
website: https://www.appro.org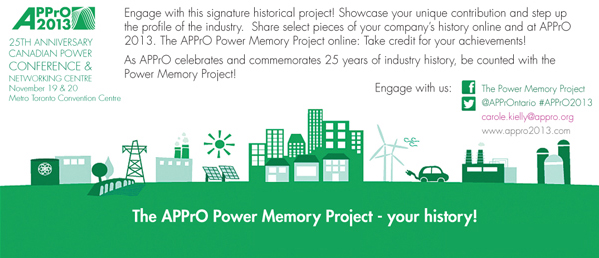 [ APPrO Home Page | APPrO conference | APPrO magazine | Online Directory | publications | organizations | education | businesses | conferences | definitions | Internet links ]